28 March 2007
Arrival in Fort McPherson
The Expedition crossed into Canada's Northwest Territories at mid-day today and arrived at the historic settlement of Fort McPherson this evening. Matthew describes their scenic run through the Richardson Mountains in tonights soundclip. A full daily dispatch and their first photos of caribou follow the soundclip. Enjoy.
Click Here for Tonights Soundclip from Matthew
CHUGIAK KIDS: Tonights Weather Report in Spanish is in text only:
Estado del Tiempo

Hoy es 28 marzo. Estamos en Fort McPherson, Northwest Territories. En la mañana, la temperatura estaba menos treinticinco grados Celsius, o menos treintidos grados Fahrenheit. No hay nubes o viento. En el dia, al cumbre de la montaña, hay mucho viento y nieve en el aire. Muy frio! Ahora, a diez de la tarde, no hay viento o nubes, y la temperatura está menos quince Celsius, o plus cinco Fahrenheit.

Dispatch, March 28, 2007:  Fort McPherson, Northwest Territories
Camp 13 Location: Fort McPherson School
Weather: Sunny, -15ºC (5 ºF); overnight low -36ºC (-32ºF)

Caribou!!!

Today, we crossed the Richardson Mountains, leaving the Yukon River drainage and entering the basin of an even larger river, the Mackenzie. The Yukon flows to the Bering Sea. The Mackenzie into the Arctic Ocean. The mountains were beautiful, but it was windy and cold up high. Despite the weather, we were not alone. There were THOUSANDS of caribou in the mountains, beginning their spring migration from this area to the coastal arctic plains of Alaska and Canada, where they have their calves.
Caribou are remarkably well adapted to the Arctic. They walk and trot very efficiently, which means they need much less energy to move than a person would. This is important if you migrate hundreds or thousands of miles or kilometers a year. Caribou are also able to keep warm in very cold weather, which is vital as we saw today. They have broad, splaying hooves that help them in deep snow, a bit like snow shoes.
Caribou are also very important for people who live in the Arctic. Caribou meat is tasty and healthy food. Caribou hides are great for clothing or for sleeping on when it is cold.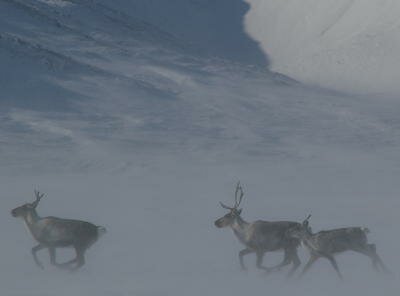 Interestingly, the African language Swahili has a word, karibu, which is pronounced the same and means "good." Most people in the Arctic would agree that caribou are good! There was palpable excitement amongst the folks in Old Crow and Ft. McPherson when the word got out that the caribou were moving.